Unless you're flying with one of the super budget airlines which can often end up costing more in the end anyway what with their hidden extras, most airline companies these days let you take one piece of hand luggage to fit in the overhead lockers, and one small piece to fit under the seat in front of you. So especially if you are travelling light, do take advantage of this extra convenience by investing in a mini back pack.
Easy to carry and out of your way, which is particularly handy if you have a small wheeled suitcase too, mini backpacks are actually a really popular fashion trend at the moment meaning that you can easily pick on up and at a price to suit you. If treating yourself to a mini backpack sounds like a good idea, then here are our top picks that we think you're going to love.
Mountain Warehouse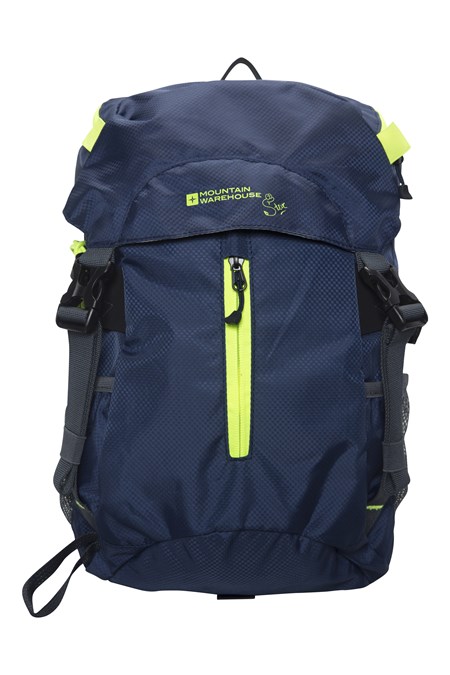 For a mini backpack that works for both guys and girls, we found this practical and sporty looking one at Mountain Warehouse. Currently in the sale for just £14.99(!), it has multiple pockets, a main compartment that's ideal for your tablet, books and chargers, and a convenient front zip pocket for your passport. With a 15L capacity it has plenty of room for all the essentials you want to keep handy. Plus, it is super lightweight and will pack flat into your suitcase when you don't need it. If you need a mini backpack in a hurry then do head to the Mountain Warehouse site since they actually have these styles in their own subsection!
Primark
This one is most definitely for the ladies and with its chic design and cool studs, nobody is ever going to guess that it comes from bargain high street shop Primark! With a handy top carry handle as well as a secure clip fasten opening, you can carry around your valuables and other essentials without worrying they'll be disappearing anywhere. Fit it neatly under the seat in front of you and enjoy the fact that if it does get a little grubby on the floor, it will wipe clean! Get it from Primark for just £12.
Nike
For a mini backpack that comes from a big name brand, then we are going to go right ahead and recommend one from top sports brand Nike. Available in a whole score of colours and with the instantly recognisable iconic branding, this pint-sized backpack is going to make swooping round the airport a breeze and of course means you can keep your most valuable possessions close by and handy at all times. Look out for deals on this classic design, especially at this time of the year.
So keep things close when you're jetting off on your travels with a mini backpack to accompany your other hand luggage – you're going to love the ease and convenience!